A TRAVELING AND CURIOUS SOUL
PLAYS GREAT MUSIC
"OUTSIDE OF THE BOX"
Michael Kang from "String Cheese Incident"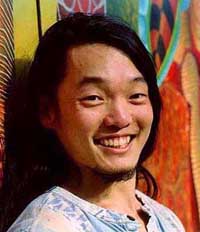 THE ELECTRIC AND ACCOUSTIC MUSIC MAGIC emanating through Michael Kang's violin/guitar/mandolin artistry provide ample evidence that he is traveling on a never-ending odyssey that exists "outside of the box" of what is normally heard in today's humdrum radio. This curious musical soul's existence has been described as being adventurous, always exploring, evolving and a kindred spirit that approaches life with "wonder" while always seeking ways to always better himself.
LIVING IN COUNTRIES such as Korea, Indonesia, England, Germany, New York, Bay Area in California, Alaska and Colorado has seemingly incorporate within this inquisitive musical gypsy the insatiable interest of incorporating all the music that exists worldwide into his impassioned playing. Integrating his initial informal classical-violin background with the bluegrass and improvisation skills he learned in Alaska in the early 1990's - an always emotive and wide-ranging style from acoustic to heavy electric sounds became an essential part of his musical performance repertoire.



GOD FORBID THAT MUSIC WOULD
REIGN FOR ONE NIGHT! Concert Review




Imagine a concert that started on time, played up to the time curfew, played 3½ hours of pure music from just the headlining group at a venue filled with adoring fans that follows them from place to place.

Imagine a concert where the fans are standing for the vast majority of the time, singing their songs, dancing to the music and rejoicing to all the recognized songs.

Imagine that the performing group not having a major record label support, large promotional support dollars, airplay on radio, videos on MTV and/or appearances on MTV's TRL receiving these accolades.

Imagine a concert where entertainment, hype, the latest "rage" or "hit" song and the temporary adoration to the "personality of the week took a back seat to music. Imagine a concert where music would reign!

String Cheese Incident performance at the Greek Theater on August 1, 2001 continued their fast-growing reputation of a group filled with legions of devoted fans that destroys the prevailing stereotypes of how to achieve success.

The joy of an audience and artist communicating at the same level was very apparent from the beginning of the concert. Evidence was seen via the audience giving shouts of exuberating to melodies to the recognized songs that provided String Cheese Incident impetus to ever greater musical flights of discovery.

The group's collective talents made the anticipated lulls within their 3½ hour concert preparations for the various creative surprises from their various improvisational and impromptu musical interludes that was spearheaded by the playing of Kyle Hollingsworth on keyboards, Bill Nershi on guitar and Michael Kang on mandolin/violin/guitar/vocals.

Click HERE to read an interview with Michael Kang.
EVIDENCE OF HIS DRIVING CURIOSITY to incorporate different types of world music into one creative sound is clear when one uncovers the musical exchanges he's sought with various diverse artists. They include creative visionaries such as Santana, Merl Saunders, David Grisman, Phil Lesh, Bela Fleck, Warren Haynes, Phil Lesh, Peter Rowan, Art Neville, Ben Harper, Blues Traveler and others.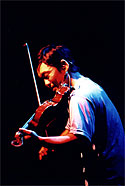 HIS SIDE PROJECTS provide additional evidence of his appetite in unique hybrids of traditional and radical music via "Theory of Everything" and "Comotion" where he performs with people such as Tye North from Leftover Salmon, Ross Martin from Tony Furtado Band, Dave Watts from The Motet, Darol Anger from Anger Marshall Band, Aaron Johnston from Pete Escovedo Orchestra, Mike Marshall from the David Grisman Quintet, Tye North from Leftover Salmon, Paul McCandless from the group Oregon and Jeff Sipe from Leftover Salmon
STRING CHEESE INCIDENT was Michael's first flight of serious musical explorations. This Colorado-based, bluegrass, jam-band String Cheese Incident built an impressive following, grassroots style by starting out primarily as a bluegrass outfit and evolving into a jazz-fused, Cajun, reggae and world beat, improvisational outfit with a focused vision where Charlie Parker, Jerry Garcia, The Neville Brothers and Bill Monroe come together at one time. The band's make-up is additional evidence of the diversity that exists in his magical music tour with Kyle Hollingsworth/keyboards from Baltimore, Keith Moseley/bass from Oklahoma, Bill Nershi/acoustic guitar from New Jersey and Michael Travis/drums from L.A. They achieved their success as a popular touring act and c.d. sales have seen them achieved an income of approximately 3.5 millions dollars.
WHERE THE CURRENT rap/hip-hop scene promotes the "gangsta" lifestyle, Michael (along with String Cheese Incident) has developed throughout their great number of performances a joyous and positive environment filled with festive energy while having fun with the music. Where rappers want to recreate their "living" environment in the cause of "making it real"- Kang and String Cheese Incident tries to make their concerts as far from reality as possible and an escape from their daily lives. Instead of guns and violence - decorations, batik art, fire dancing and hula-hoops are evident at the concerts - or "Incidents, " as their followers lovingly described their live performances. The concerts have created a space for people to be able to do whatever it is that they want to do without any restrictions creatively or emotionally or whatever.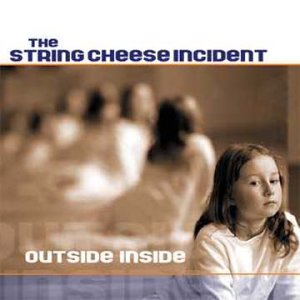 THE GREAT DEVOTION to String Cheese Incident has created many interesting communities within their avid fans, one of which is the Jellyfish Foundation - a group of fans that has decided to go to their shows sober. "Cheeseheads" (dedicated fans) can volunteer online to become "Pirates" (people who travel the world, spreading positive energy and light with them) to help spread the word about SCI. "Pirates" are given a packet of 100 handbills and 30 posters to distribute around their hometowns, and are encouraged to urge local stations to play SCI and local record stores to sell their albums. In exchange for this devotion to the band, "Pirates" sometimes receive free tickets to concerts (otherwise known as "Incidents") and merchandise. Around 4,000 "Pirates" are in action today, and about 200 apply each week to become a "Pirate." Their Internet fans are evident at the "Friends of Cheese" (FriendsOfCheese.Com) website fan page and "IncindentaList" email discussion lists that has greatly aided in letting people know about the group.
A GUIDING FACTOR to Michael and String Cheese Incident's approach to life and music that has endeared themselves to their great legion of fans has been the incorporation of a contemporary approach to spirituality known as "The Course in Miracles." The main voice in this movement is Marianne Williamson, expressed in her book, A Return To Love that the central theme is rooted in love being the only real part of our lives and a positive approach and expressions of positive energy being the only means of reaching unconditional love.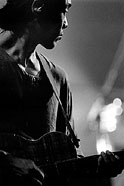 HIS SUCCESS "Outside of the Box" provides ample tangible evidence that talent, creativity, passion and artistry are still essential elements of success in the music industry. Michael Kang (along with String Cheese Incident) has broken many assumed stereotypes and assumptions deemed necessary for "success."
THE GENERAL PUBLIC'S ACCEPTANCE of String Cheese Incident's wide range of music beyond the rap and boy-girl toy pseudo r&b/pop pre-fabricated and programmed entertainment confirms that passion and the quality of music are major factors in acquiring a large, devoted and avid fan support. An ever-continuing string of packed audiences at all their concerts, that was produced by their own record company, proves that videos on MTV, appearances on MTV's "TRL" and the support of a "major record label" for promotional support are not necessary for financial and creative success.
WITH MICHAEL BEING 30 and the oldest member of String Cheese Incident being 40, they have broken the "age barrier" that one needs to be "young" to achieve any kind of success. Michael's musical instruments of expressing his passion - violin, mandolin and guitar - destroys the presuppositions that only guitar players, drummers, bass players, keyboard players and singers are the only "accepted" means of expression with mainstream music. Michael has broken the "race factor" in proving that an Asian/Asian Pacific American can be accepted as a creative and important artist featured in a successful group without any qualifications for any reasons.

TODAY'S MUSICAL LANDSCAPE are filled with countless pre-fabricated rap, hip-hop, boy/girl teen bands and MOR nameless artists whose sole purpose is to recreate past success by staying "Inside the Box" of today's latest fickle flavor of the week. This mindset has provided the false impression and assumption to misguided aspiring musicians that this is the only path for continued success in the music industry.
IMAGINE THE GENERAL PUBLIC'S EARS being inundated with the sounds created by artists along the lines of Mozart, Miles Davis, Brian Wilson, Yoyo Ma, Neil Young, Prince, Chick Corea and other ground-breaking spirits instead of the mind-numbing artists that habits today's charts and commercials such as Burger King, Pepsi, etc. It is reassuring that Michael Kang provides great and on-going proof that creative and passionate artists can thrive today without the premeditated and tiresome media hype.
Any questions regarding the content, contact Asian American Artistry
site design by Asian American Artistry
Copyright © 1996-2002 - Asian American Artistry - All Rights Reserved.